Palazzo Vertemate Franchi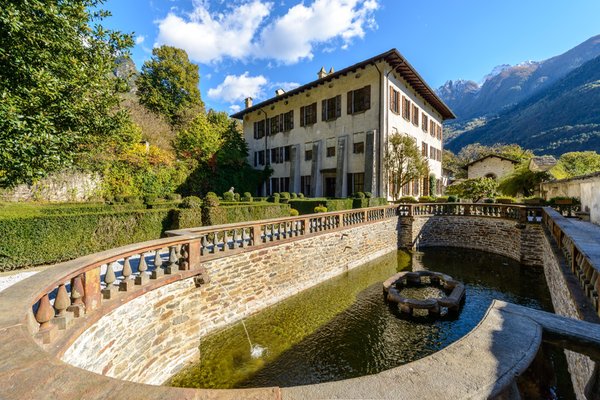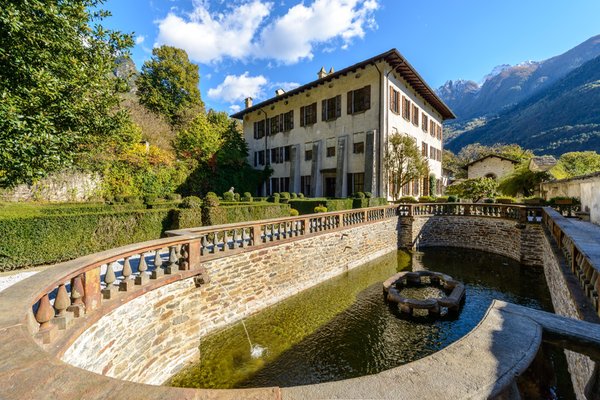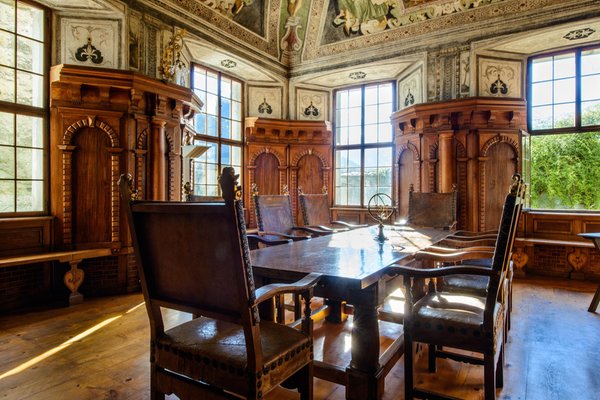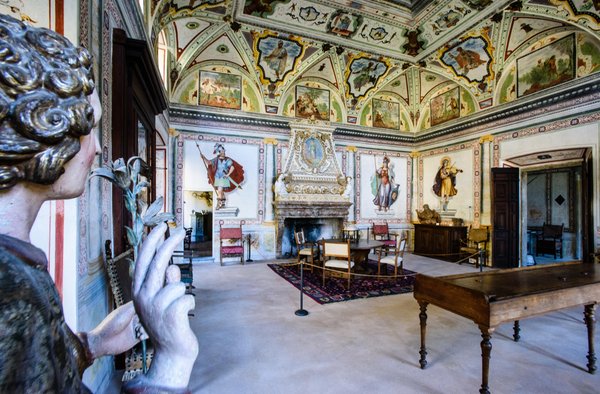 It is situated in the Prosto of Piuro locality, within two kilometres of Chiavenna, in the Bregaglia Valley. Built in the sixteenth century by two of the Vertemate brothers, one of the richest families of the small town, it is one of the most prestigious elegant houses of the Lombardy area.
It is the only building that survived the landslide of 1618, which submerged the village with lots of its inhabitants.
The palace is a very beautiful masterpiece of the Renaissance, immersed in a charming environment, which provides the real life story of a sixteenth-seventeenth-century aristocratic family.
The front of the palace is simple and essential, surrounded by light and functional spaces as well as the Italian garden with the fishpond and the double exedra-shaped banister. Beside the palace, there is an orchard, a vineyard, the chestnut wood at the back of the palace and a succession of simple country buildings for running the works which used to be carried out at the estate such as: the press, the cattle sheds and the ice-house.
Inside the palace, the walls and the arched ceilings are richly painted with frescos representing large scenes and mythological figures, especially based on the Ovid's metamorphosis.
Stüe (rooms covered in wood) and embroidered ceilings are certainly the wonders of the palace. By visiting each single room you can feel the atmosphere of the ancient times. Unfortunately nobody knows the names of the architects who designed and created the palace; even the artists who made the wonderful wooden ceilings are unknown.
The Italian gardens, the private house, the wide chestnut wood, where the autumnal colours burst out in autumn, the vast orchards, the gardens, the vineyard and the cottages: the screw press, the cold storage room (a deep cylindrical hole where snow or ice is banked in winter), the metato, a shed where chestnuts were dried and the alembic to use the marc and extract the grappa, all serve to embellish the palace.
:) We liked it!
This business activity has no reviews yet.
Write the first positive review, share your experience!
Map Valchiavenna
Palazzo Vertemate Franchi
Via del Palazzo Vertemate
Piuro (Valchiavenna)